Sulfuric Acid
Sulfuric Acid (17039)
95-97%, ULSI Puranal M
Overview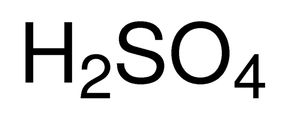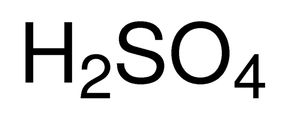 Request Free Samples
You can only request up to 6 free samples. Please remove one or more products from your sample bag before requesting another sample
×
General Information
CAS Number
Molar Mass
Grade
Physical Properties
Vapor Pressure
Color
Partition Coefficient
Melting Point/Range
Boiling Point/Range
Physical Form
Flashpoint
pH
Density
Odor
Safety Information
Flammable Gas Formation

The substance or mixture does not emit flammable gases in contact with water.

Ignition Temperature
Thermal Decomposition

Decomposition temperature: 338 °C

Evaporation Rate
Oxidizing

The substance or mixture is not classified as oxidizing.

Chemical Stability

Stable under recommended storage conditions.

Incompatible Materials

Gives off hydrogen by reaction with metals, Reacts violently with water, Nitriles, Sulphides, Cyanides, Aldehydes, Alcohols, Amines, Copper

Flammability
International Transportation
UN Number
Packing Group
Harmonized System Code
Chemical Class
Safety Information
Flammable Gas Formation

The substance or mixture does not emit flammable gases in contact with water.

Thermal Decomposition

Decomposition temperature: 338 °C

Oxidizing

The substance or mixture is not classified as oxidizing.

Chemical Stability

Stable under recommended storage conditions.

Incompatible Materials

Gives off hydrogen by reaction with metals, Reacts violently with water, Nitriles, Sulphides, Cyanides, Aldehydes, Alcohols, Amines, Copper
International Transportation
Vapor Pressure : Negligible hectopascal
Partition Coefficient : No data available
Melting Point/Range : -14 to -10 °C
Boiling Point/Range : 310 °C (1,013 hPa)
Flashpoint : Not applicable
Density : 1.840 g/cm3 (20 °C)
Flammable Gas Formation : The substance or mixture does not emit flammable gases in contact with water.
Ignition Temperature : Not applicable
Thermal Decomposition : Decomposition temperature: 338 °C
Evaporation Rate : No data available
Oxidizing : The substance or mixture is not classified as oxidizing.
Chemical Stability : Stable under recommended storage conditions.
Incompatible Materials : Gives off hydrogen by reaction with metals, Reacts violently with water, Nitriles, Sulphides, Cyanides, Aldehydes, Alcohols, Amines, Copper
Flammability : Not applicable
Harmonized System Code : 28070000
particles > 0,5 µm
Max. 30 P/ml
aluminium (Al)
Max. 10 ppb
arsenic, antimony (as As)
Max. 5 ppb
beryllium (Be)
Max. 10 ppb
chromium (Cr)
Max. 10 ppb
germanium (Ge)
Max. 10 ppb
potassium (K)
Max. 10 ppb
magnesium (Mg)
Max. 10 ppb
manganese (Mn)
Max. 10 ppb
molybdenum (Mo)
Max. 10 ppb
strontium (Sr)
Max. 10 ppb
tantalum (Ta)
Max. 10 ppb
titanium (Ti)
Max. 10 ppb
thallium (Tl)
Max. 10 ppb
zirconium (Zr)
Max. 10 ppb
chloride (Cl)
Max. 0.1 ppm
nitrate (NO3)
Max. 0.15 ppm
phosphate (PO4)
Max. 0.5 ppm